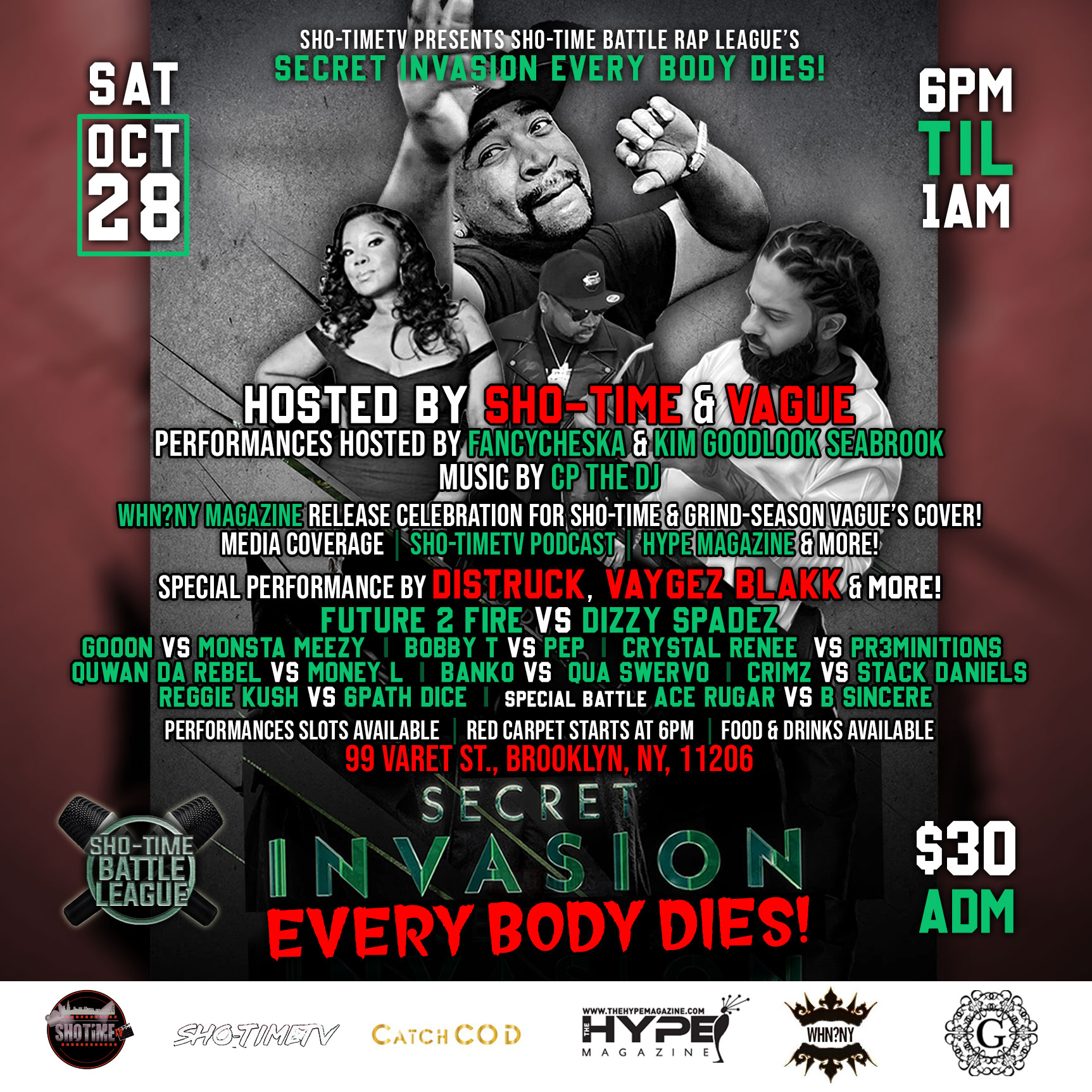 OCTOBER 28th SHO-TIMETV PRESENTS SHO-TIME BATTLE RAP LEAGUE'S SECRET INVASION Get ready for an epic showdown at 99 Varet Street, Brooklyn, NY, USA! Join us for the SHO-TIME BATTLE RAP LEAGUE'S SECRET INVASION event where the fiercest battle rappers will clash on stage. Brace yourself for mind-blowing freestyles, jaw-dropping punchlines, and electrifying performances. This in-person event promises to be an unforgettable experience for all hip-hop enthusiasts. Don't miss out on the hottest rap battle of the year!
SHO-TIMETV PRESENTS 
SHO-TIME BATTLE RAP LEAGUE'S SECRET INVASION EVERYBODY DIES!Hosted by 
SHO-TIME & VAGUE 
PERFORMANCES HOSTED BY FANCYCHESKA & KIM GOODLOOK SEABROOK 
Music By CP THE DJ WHNNY MAGAZINE RELEASE CELEBRATION FOR SHO-TIME & GRIND-SEASON VAGUE'S COVER!MEDIA COVERAGE SHO-TIMETV PODCAST HYPE MAGAZINE & MORE!
Special Performance by Distruck & More! 
6pm-1am
Performances slots Available RED-CARPET STARTS at 6pm 
Future 2 Fire vs Dizzy Spadez 
Gooon VS Monsta Meezy 
Bobby T vs Pep
CRYSTAL RENEE VS PR3MINITIONS
Quwan DA REBEL vs money L 
Banko VS QUA SWERVO
CRIMZ VS STACK DANIELS Reggie 
Kush vs 6path dice 
SPECIAL BATTLE ACE RUGAR VS. B SINCERE
Food & Drinks Available
30$ Admission 
Location 99 Varet st. Brooklyn, NY,11206
Sponsors Hype Magazine WHN?NY MAGAZINE CATCHCOD GENIEVIE COUTURE!